Gold Leaves and Sparkling Crystals for an Autumnal Hermione De Paula Bride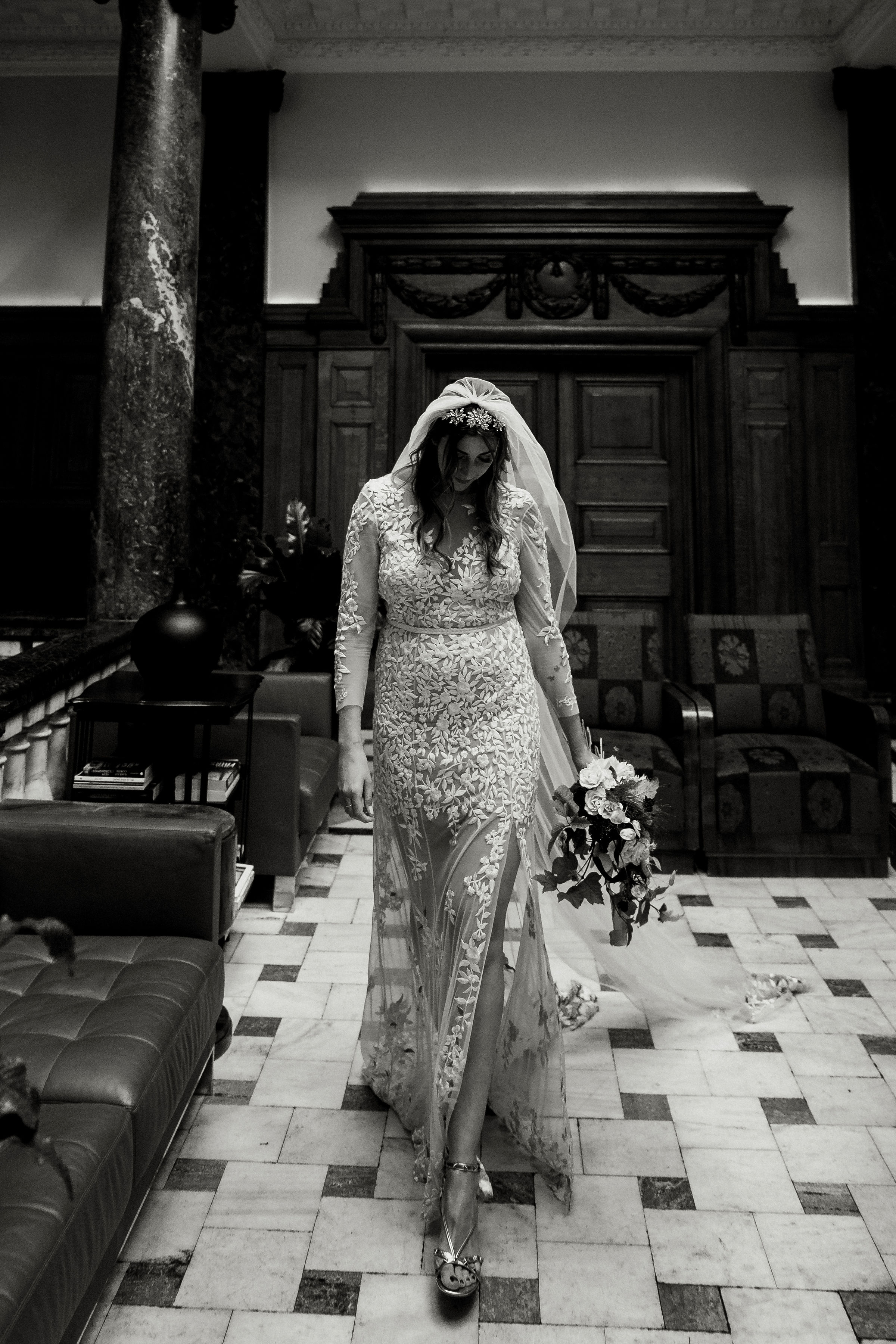 Autumn is the most incredible time, crunchy, ochre-hued leaves and chunky knits (I always offset mine with just a hint of sparkle of course), endless mugs of tea and cosy ink-black evenings. And there's something about the velvet-rich quality of autumn light that fills me with excitement, so beautifully captured in the images from this stunning union.
Jen Kemal and Steve Walpole tied the knot on 15th September 2018 at The Town Hall Hotel and Apartments, in Bethnal Green, London. This fab pair were inspired, of course, by the changing season; and their rich, autumnal blooms of chocolate cosmos and soft pink-toned cafe au lait dahlias set the tone beautifully. Flowers, leaves and naturally occurring shapes are such a huge source of inspiration to me, so it was the ultimate pleasure to run with with this petal-strewn brief to create Jen's statement golden leaf and crystal-scattered head piece to complement her jaw-dropping Hermione de Paula dress.
"My dress made by Hermione De Paula was so suited to my love of 'something different', to my fashion background and to the non-traditional wedding we had planned, particularly as it wasn't white. The embroidery included hints of blush pink as well as rose gold embroidery, which finished the open back off perfectly. The wild rose embroidery felt like it summed up both my English and Cypriot roots and we continued the rose theme with edible rose petals and rose water flavoured Turkish delights all the way from my father's birth place of Kyrenia, North Cyprus."
Jen discovered Tilly Thomas Lux through an alternative London-based wedding fair, and while first attracted to some of our star-strewn designs, eventually opted to go down the bespoke route to create the leafy, shimmering statement piece of her dreams. It was such a joy to play on her the feel of her ultra-feminine and sexy-sheer gown to craft something unique and striking to nestle in her tumbling chocolate curls.
"I discovered Tilly Thomas Lux after following the Most Curious Wedding Fair. I considered a piece from the Shooting Stars collection but decided quite close to the wedding, and after a conversation with Hermione herself, that the stars might not be right. I decided I should just follow my desire to go for the bespoke option of a leaf design with Swarovski crystals for a hint of sparkle. I have to say, after following TTL on Instagram for over a year and consistently being in awe of Sally's work, I knew I couldn't not get in touch!"
"Having contacted Sally, I was kindly invited to her home studio to enjoy a glimpse into the design process, and to select colours for the crystals and placement. I knew I didn't want too much sparkle and Sally perfectly balanced out the clear crystals with bronze levels, again tying in our nod to autumn. I would describe this journey as creative, inclusive and very special. Sally will give you a glimpse of your design before it's set, and I can imagine it must be a rare occasion for her brides to not just go with it - if you love Sally's work as much as I do, you won't want to change a thing! Although we discussed bronze in the beginning, my eventual gold headpiece was perfect and really did complement my gold shoes."
Jen cited Kate Moss as her ultimate style icon, and combining this image with the details of her beautiful flowers and gorgeous sheer bespoke gown, it was utterly natural to draw up plans for a chic, bohemian headpiece glittering with some of my favourite Swarovski crystals. She added a pair of metallic sandals and a simple, floating tulle veil to complete her look.
"My super sexy dress was very sheer with a thigh-high split, so I decided to balance things out with a very traditional chapel-length veil. Both dress and veil incorporates our initials, wedding date, Steve's surname (and now mine!) as well as song lyrics that referred to the place of our engagement - L.A., 'Santa Monica, I'm racing in the lights for you baby'. My shoes were gold Valentino strappy sandals with a slight heel; I'm tall at 5ft 10 so wanted a small heel, but to still feel sexy."
Jen's favourite wedding day moment is so evocative of that overwhelming just-wed euphoria I remember so vividly. She and Steve vanished behind a partition in the dining room of their reception, and at the last moment, the wall slid away and their guests witnessed their first dance as man and wife, swaying in each others arms to Ben E King's 'Stand by Me.' I just have to share this lovely little fact about the couple's venue, something that Jen was overjoyed to learn.
"The room where we had our wedding breakfast appeared in a scene in my all time fave film, Atonement, featuring Keira Knightly. I had to re-watch the film to find those scenes! The venue was previously a film location house before it was turned into a hotel in more recent years, and originally started life as the Town Hall of Bethnal Green many years ago. As a university History graduate, this fascinated me immensely!"
Jen and Steve chose Fiona Clair to document their day. Originally South-Africa based, our bride was mesmerised by Fiona's photography and the naturally beautiful and real brides captured by her lens. As luck (or fate!) would have it, Fiona was due to move back to the UK a few months before the couple's wedding day, and was able to book in Jen and Steve's London nuptials.
I so wish there was a way brides could wear their dresses again, Jen's sheer, petal-strewn creation is just too beautiful not to be worn! It feels me with happiness therefore, that the sparkling leafy design we created together will serve to remind her of this incredible day every time she wears it. And with Christmas (yep, I went there!) round the corner, I can't wait to see my brides jazzing up their party outfits with their Tilly Thomas Lux pieces. For now though, I'm off to make a strong brew and use my cat as a hot water bottle while I dream up my next creation.
With love and sparkle,
Sally x